Crescent's Great Platinum Jubilee Bake Off
23 May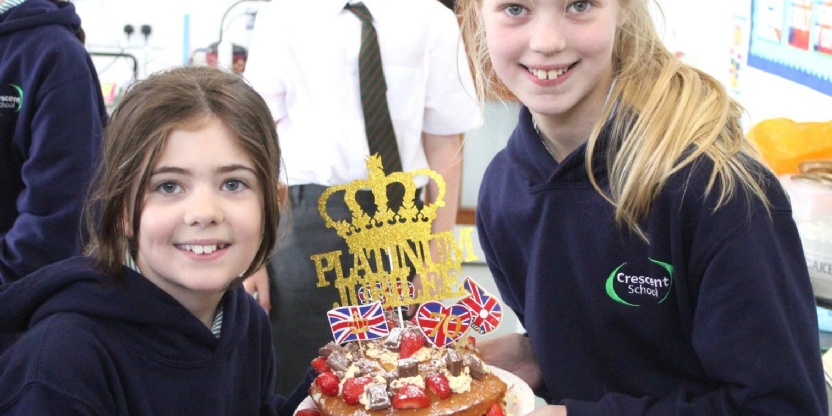 Pupils at the Crescent School took part in a special DT Challenge when they channelled their inner Mary Berry and went all out to win the school's Great Platinum Jubilee Bake Off.
Their task was to design, bake and decorate a Victoria Sponge cake to mark HM Queen Elizabeth's Platinum Jubilee.
Pupils worked in teams and, after researching the history of the Victoria Sponge, began by carefully designing their cakes. Mrs Johnson then provided all the ingredients, and, on Wednesday, Year 6 got busy baking their sponges, being careful to beat well but fold the flour in gently, as one of the key judging criteria was a light and airy cake.
Friday morning was all about the decoration and the youngsters spent periods 1 and 2 excitedly creating their stunning designs, we had Union Jack flags made from whipped cream and summer fruit, royal crown creations, strawberry flowers, chocolate dipped strawberries, red, white and blue sprinkles and even an English tea-time favourites cake!
Judging all the cakes were Mr Adkins and Mrs Stephenson, who happily took on the hard work of tasting all those cakes. In addition to the texture and taste of the sponge they considered, the creativity of the design, how the fillings complimented the cake and how the team worked together to produce the finished entry.
After much deliberation the results were: in first place Charlotte and Chloe and in second place Stephanie, Katherine, Harriet and Rory. A really big well done to everyone though, as it was a very close decision.
Mrs Johnson, said, "Our bakers were just incredible, the effort and creativity put into making their cakes has been amazing. Well done everyone."
And there is plenty more Platinum Jubilee fun to come, as the school is holding a themed Jubilee Day after half-term on Friday 10 June to mark the Queen's anniversary in our own special Crescent way!