U11's Girls Midlands ISA Football Tournament
07 Oct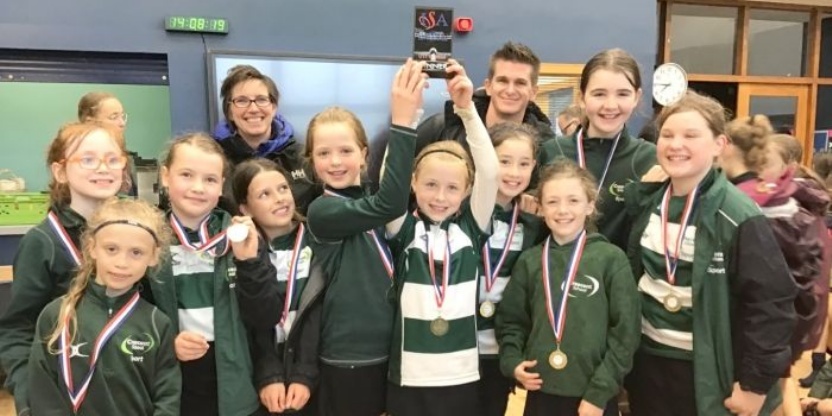 The U11 Crescent Girls side travelled over to Dixie Grammar last Friday for the Midlands ISA, and were simply fantastic from the first kick to the last, playing with confidence, determination and pride.
The girls began their campaign with a very hard-fought victory over Foundation rivals Crackley, a 2-1 win sealed with well taken goals from Roisin and Grace. The second game saw them come up against a very strong, physical Dixie team. Crescent were able to take a 2-0 lead in the first half with possibly the two goals of the tournament from Grace, with Annalise and Lara providing the support. Dixie were not going down without a fight on their home turf however, scoring 2 late goals to draw the game. Crescent really found their confidence and their shooting boots in the 3rd game with a resounding 10-0 victory over Ruckleigh, four more goals from Grace and an incredible double hat-trick from the unstoppable Roisin powering them through. Going into the final group game, Crescent knew that a win in the last group game would be enough for a spot in the final, and after scoring straight from kick-off against Highclare, this was never in doubt. Five goals from Grace, three from Roisin, two from Esme, two from Ava and a final from Lara ensured not only a 13-0 win, but a chance to lift the trophy against the unbeaten Edenhurst in the final!
Inspired by their excellent goal-scoring, Crescent were straight out of the blocks, pressing high up the pitch and not allowing their opposition to settle. This pressure immediately started to pay off, Roisin scoring twice to make it 2-0 at the half. The second half was much the same story, Grace scoring twice and Roisin scoring twice more to leave the final score 6-0 and Crescent Midlands ISA Champions!
Special mentions must go to all 10 players who played their parts perfectly as a team throughout. Ellie, Ava, Zara and Chloe strong and collected at the back, Annalise, Esme, Bella and Lara diligent and determined in midfield and finally Grace and Roisin deadly in front of goal, between them scoring an incredible 28 goals between them in just 5 games!