Super Summer Concert Showcases Crescent's Young Musicians
22 Jun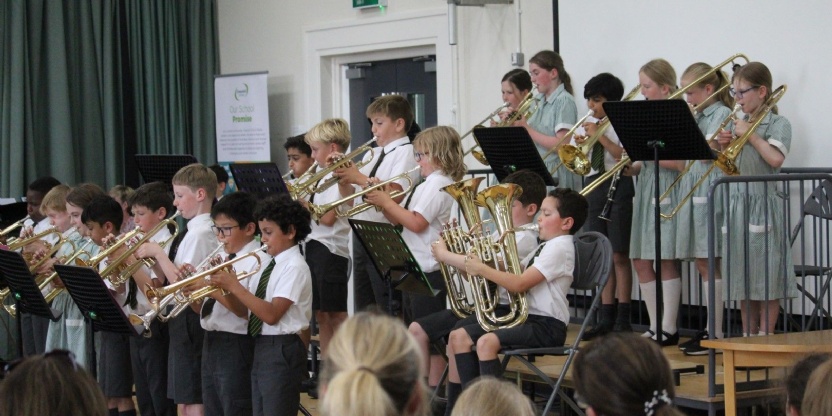 Crescent School's Summer Concert took place on Thursday 22 June.
It was well attended with the school hall packed with parents and family members eager to enjoy the end of term celebration of fine music and song.
This year the Rock Ensemble opened the show, a new co-curricular group for the school, they confidently performed a medley of famous rock riffs and followed that up with an instrumental version of Wonderwall. Then came the first of many instrumental solos with Ava playing Train Ride beautifully on the piano. Next Orchestra came on stage, they performed two pieces; everyone enjoyed the theme from James Bond and was most impressed with their super rendition of the Themes from Jupiter from The Planets suite.
Next up was Ellie who played her Grade 3 exam piece, T-Rex Hungry wonderfully on the piano. That was followed by Brass Group with the lively toe-tapping Honk. Wacky Music performed an animated and energetic Samba, then Zahra wowed us all with her complex Grade 5 piece Cossack Dance. Remi provided a moment of calm reflection with his sensitive performance of 'Twilight' from the Grade 3 piano syllabus.
The Flute Group performed a piece written especially or them, Summer Symphony, and then Sam completed the solo performances playing March on cornet.
The concert concluded with a rousing performance by the Choir. Pupils sang five pieces starting with Hip Hip Hooray, followed by We're So Proud Of Our School, then two Disney songs combined, A Great Big Change and finishing with One Little Voice.
It was another fabulous afternoon of music and song. Our enormous thanks and congratulations go to all Crescent School's accomplished performers who took to the stage in front of their proud parents, and of course to all their teachers and Director of Music, Julie Barnes who have helped them achieve so much.