Joint Choral Workshop Shows Why We Sing
14 Nov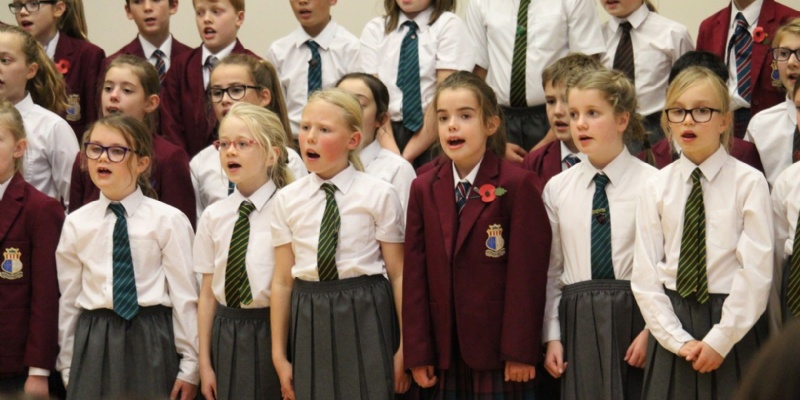 Children from Crackley Hall School and Crescent School had a fantastic, full day of uplifting and inspiring singing when they took part in a joint Foundation Junior School choral workshop. The pupils from both school choirs worked together under the guidance of Directors of Music, Susan Olden and Julie Barnes, to prepare and rehearse a mix of joint and individual choral and solo pieces ready for an afternoon concert for parents.
Mrs Olden and Mrs Barnes both agreed that the joint musical initiative had been another very successful day, remarking that, "Everyone has really enjoyed themselves and we have all learnt from each other."
The concert opened with an uplifting performance of Why We Sing, the voices of the 60 plus children blending together beautifully, echoing touchingly around Crackley's school hall. Both schools individually showcased their choral skills, with Crescent School singing The Harvest of Love and Since You've Been Gone and Crackley Hall The Poppy Red and Hold Back The River. The audience was also treated to incredible, individual solos from Mia Webb on flute, Lily Emery who sang The Dormouse's Carol, Andrea Zanyi who performed Ring Of Keys and Isabella Osborne who belted out Why Am I Always The Bridesmaid. During the concert the choirs performed a variety of pieces together; they included Sanctus, Touch The Sky, A Little Can Change Our World, We Are The World and the always popular Viva La Vida.
Julie Barnes, Director of Music at the Crescent School, continued, "The children have clearly enjoyed working together. Last year's workshop went well, but this one has been even better."
Susan Olden, Director of Music at Crackley Hall, added, "We have some real talent in our schools and we very much want to inspire them with their singing."
The choral workshop is to be followed by a return visit next term when Crackley Hall will travel to Bilton, Rugby for an orchestral workshop with the Crescent School.
The shared workshops are just one of the many performance opportunities that the children have.