OCs Inaugural Pub Meet At The Merchants Inn
30 Nov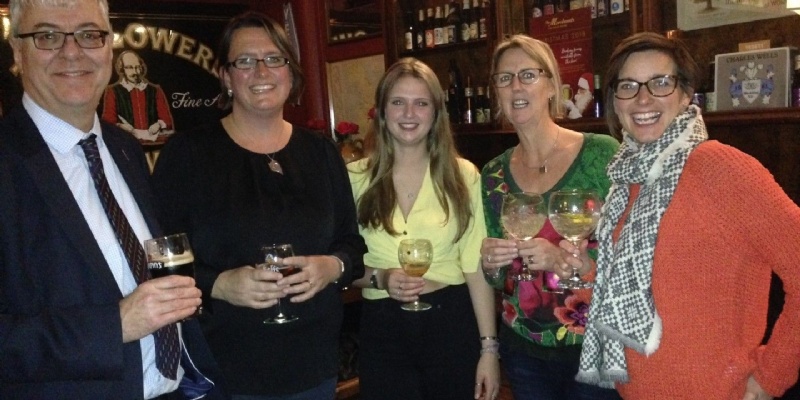 Old Crescentians enjoyed a lovely evening at The Merchants Inn last Friday 23 November when the inaugural OCs Pub Meet took place. A mix of OCs from across the generations found their way to the atmospheric venue, close to the original site of the school, in the centre of historic Rugby.
It was great to see OC staff mixing with former parents and pupils, all getting on well with each other regardless of when they originally went to the school. Headmaster, Joe Thackway and Foundation Headmaster, Ed Hester together with Foundation and Crescent staff Mel Butler, Eddie Tolcher, Helen Morley, Sally Dowling (née Meikle), Jo Byrne and Lynda Brazier were joined by Victoria Akbik, Rosalind Revill, Caroline Cook (Hilditch), Emma Wells (Whitbread), Millie Byrne, Hattie, William and Robert Hedderwick together with their mum, Ruth Hedderwick.
Victoria Akbik commented, "What a lovely occasion; wonderful to relax with fellow OCs over a drink and some food and enjoy our stories of the Crescent days. It's amazing how people's memories springboard your own reminiscences - some long forgotten! Sharing memories with today's staff gives them a wonderful insight into the school's 70 years of history. Comparing my experience with my children's is fascinating! I hope that the OCs will bloom from these early days; it is great to be involved."
In this the school's 70th anniversary year we hope that all who came enjoyed the first OCs Pub Meet, we hope to make it a regular occurrence that will help former pupils and staff stay in touch. The next event in the school's anniversary celebrations will be the school carol service on Monday 17 December, which this year takes place, back on our old stomping grounds, at the Temple Speech Rooms at Rugby School. All Old Crescentians welcome just come along and join us.