Super Summer Concert Showcases Crescent's Young Musicians
03 Jul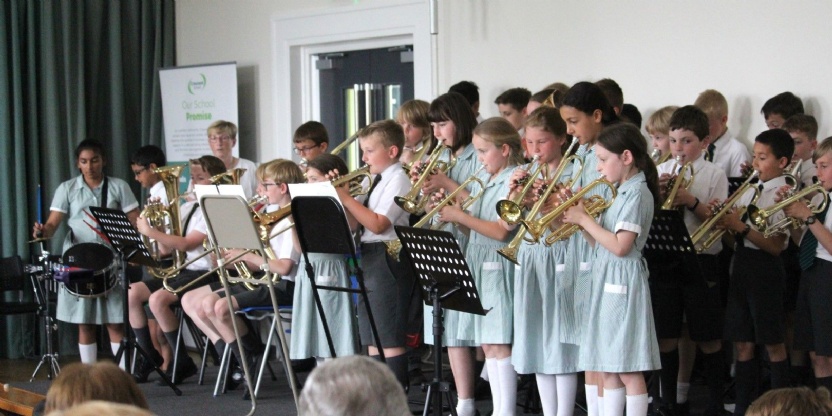 Crescent School's Summer Concert took place on Tuesday 2 July. It was well attended with the school hall packed with parents and family members eager to enjoy the end of term celebration of fine music and song.
As always the school orchestra opened the concert performing two pieces confidently. Everyone enjoyed their uplifting rendition of 'Chariots Of Fire' and the popular 'Match Of the Day' theme. Then came the first of many instrumental solos with Lily playing 'Take Five' wonderfully on the violin followed by Vignesh who played 'March Of the Wooden Soldiers' on piano.
Wacky Music were next with an animated, noisy arrangement of 'Hit This, Hit That' performed on all manner of instruments including a dustbin! They were followed by Cara and James who played 'Prelude' on cornet and trumpet splendidly.
Brass Group came next with two lively toe-tapping pieces 'Football Frenzy' and 'All Summer Long', the group included five different brass instruments, quite a feat for such a small school. Mehul then gave the audience a moment of quiet reflection with the delightful 'Over The Rainbow' before our youngest musicians took to the stage. Mini Brass captivated us all with 'Twinkle Twinkle Little Star' arranged for them by peripatetic teacher Di Fisher.
Next in the programme came Fin with a fabulous performance of the catchy 'Theme From James Bond' on euphonium and Lucy who played 'Cinq Sets' on flute beautifully. Lucy was joined on stage by the rest of the Flute group and together they skilfully played 'Cool Flutin'. Mia then completed the flute set with a sparky solo performance of 'From Ragtime to Riches'.
Everyone then enjoyed Classes VF and VY who came together for only the second time and impressed all with their lively rendition of 'Metal Merchant'.
Tilly sang 'Truly Scrumptious' beautifully and Class VI Brass (including Maya on clarinet) gave a super performance of 'In Dreams'.
The concert concluded with a rousing performance by the Choir. Pupils sang four pieces starting with 'We're So Proud Of Our School', followed by 'Harmony Blues',' Why We Sing' and finishing with 'A Little Can Change Our World'.
It was another outstanding afternoon of music and song. Our enormous thanks and congratulations go to all Crescent School's accomplished performers who took to the stage in front of their proud parents, and of course to all their teachers and Director of Music, Julie Barnes who have helped them achieve so much.