Joint Choral Workshop A Musical Highlight Of The Term
13 Nov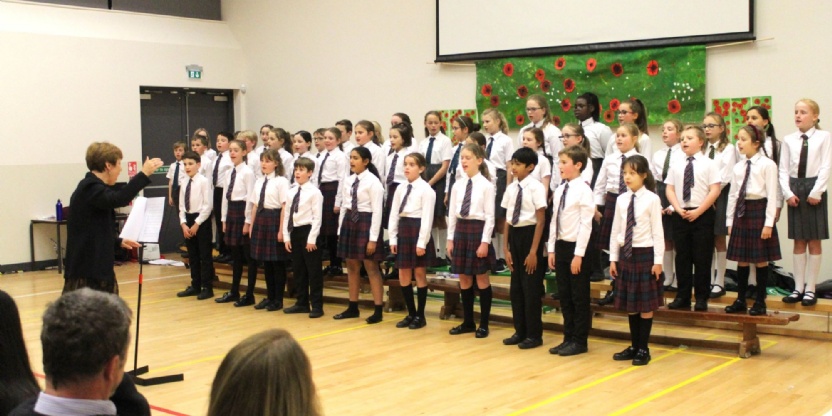 On Tuesday 12 November children from Crackley Hall School and Crescent School had a fantastic, full day of uplifting and inspiring singing when they took part in a joint Foundation Junior School choral workshop.
The pupils from both schools worked together under the guidance of Directors of Music, Susan Olden and Julie Barnes, to prepare and rehearse a mix of joint and individual choral and solo pieces ready for an afternoon concert for parents.
Mrs Olden and Mrs Barnes both agreed that the joint musical initiative had been another very successful day, remarking that, "It is so good working together, everyone really enjoys themselves, it's one of the highlights of the term."
The concert opened with a lively performance of A La Carte, the voices of the 60 plus children blending together. The choirs performed a wide variety of pieces; they included From A Railway Carriage, Riversong, London Fire, What A Wonderful World, Ode To Joy and as a finale the super scary and spooky medley Frightfest.
Both schools individually showcased their choral skills, with Crescent School singing One Of Us May Sow and Crackley Hall, Can You Hear Me. The audience were also treated to incredible, individual solos from Tumi Oredope who sang I Could Have Danced All Night, Sienna Moran who played Sundowner on the clarinet, Jorja Parris who performed Honeybun and Kiki Dhillon who sang The Ugly Duckling.
Julie Barnes, Director of Music at the Crescent School, continued, "Both schools have such a strong musical tradition and the children really rise to the occasion, it is great to come over and work together."
Susan Olden, Director of Music at Crackley Hall, added, "There is real talent within our schools and the choral workshop inspires our pupils with their singing."
The Michaelmas choral workshop is followed by a return visit in the Lent term when Crackley Hall will travel to Bilton, Rugby for an orchestral workshop with the Crescent School.
The shared workshops are just one of the many performance opportunities that pupils at the schools take part in.
To listen to the choirs singing What A Wonderful World please click here.