Daniel Is At Nine Million Words And Still Counting
30 Jun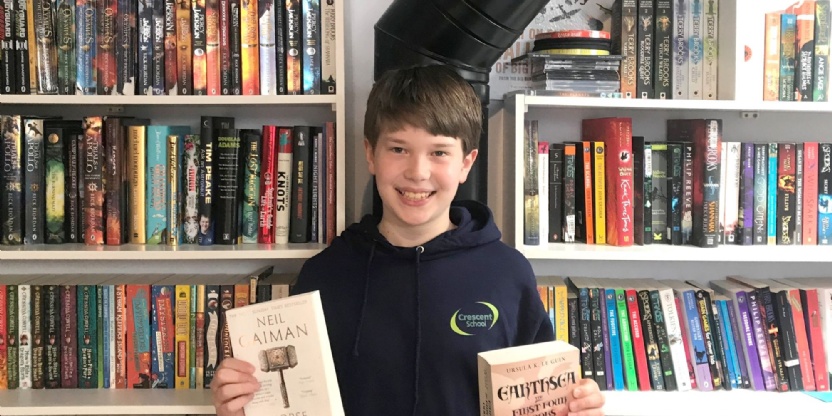 Last year, Crescent School pupil, Daniel Ovens Gibbs, read an impressive six million words and 65 books. This year 11-year-old Daniel has gone one step better. As we approach the last weeks of the summer term, Daniel has just broken through the nine million words mark after reading an astonishing 106 books this school year.
Daniel is modest about his achievement saying, "I love reading – it takes me into a world of adventure and stimulates my imagination. My favourite time to read is in the evening; it helps me wind down after the day."
Some of Daniel's favourite reads this year have included, The Return of Sherlock Holmes, The Earthsea Saga (series of books) and The Lantern Bearers – all great mystery and adventure stories full of drama and suspense to captivate their reader.
Outside of school, Daniel reads most days but, just like any other boy, he also plays sports such as hockey, tennis and sailing and finds time to practise the piano and flute.
Assistant Head, Sarah Webb, who leads on literacy at the Crescent School, explains, "We have a very positive reading culture here at Crescent, it is cool for boys to read, many of our boys in Year 6 have the reading age of a 16-year-old. There are just so many good books out there for boys to read these days."
The Crescent's approach to literacy is supported by Renaissance's Accelerated Reader system. Children take a quiz after reading each book that tests their understanding. Its approach promotes reading for pleasure whilst ensuring the children read appropriately challenging books. It also totals up the books and words read.
Sarah, continues, "Pupils from Year 3 onwards take part in the reading challenge and can quiz daily on the computers before school. We find the boys respond really well to the competitive nature of the challenge. Daniel has been our top reader for several years, but it is an absolutely awe-inspiring achievement that he has read nine million words this year."