Foundation Musicians And Vocalists Perform The Climb
06 Jul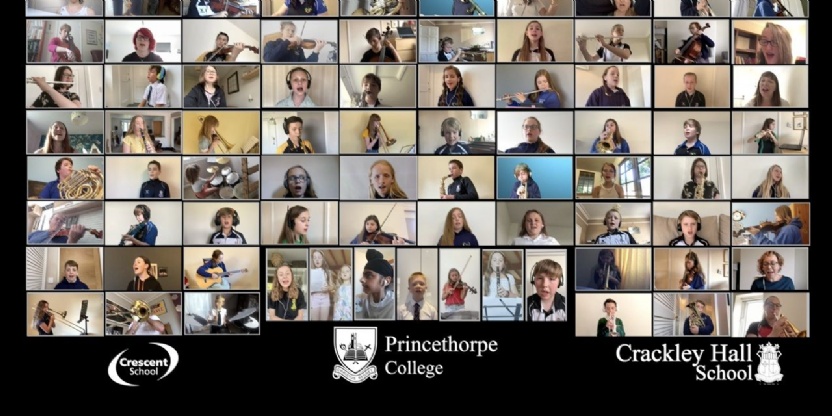 Princethorpe College Director of Music, Gil Cowlishaw, and musicians from across the Foundation, including Crescent School, have risen to the occasion with a fantastic finale to the end of the school year.
In a third virtual concert, the Summer Sing And Play, the schools' vocalists and musicians deliver an awe-inspiring performance of Miley Cyrus' magical and moving ballard The Climb.
Together nearly 90 pupils and staff perform this beautiful song, the lyrics of which describe a difficult but rewarding journey, the challenge to keep the faith so appropriate for the term we have all just experienced.
I may not know it, but these are the moments that I'm going to remember most, just got to keep going.
And I've got to be strong, just keep pushing on!
There's always going be another mountain I'm always going to want to make it move,
Always going to be an uphill battle, sometimes I'm going to have to lose
Ain't about how fast I get there, ain't about what's waiting on the other side
It's the climb!
We hope you agree that it just says it all. The wonder of virtually sharing music together has been an experience we will remember for years and years to come.
Gil Cowlishaw, explains, "Arranging the piece for the whole Foundation was a huge challenge, as I had to ensure that there were accessible parts for all the musicians across all three schools. The main body of the song has taken a lot more cobbling together, but it has definitely been worth the effort though, as the end result is, frankly, wonderful! There are pupils, from Reception right up to Upper Sixth, and staff representing all three schools including the Head of the Foundation, Ed Hester. The Climb will serve as a heart-warming and inspirational reminder of this singularly unusual term in the Foundation's history."
A huge thanks to Gil and the wonderful Foundation vocalists and musicians. What a wonderfully entertaining and inspirational end to the 2019-20 academic year!
You can watch the performance here: