Junior Schools Cross Country Challenge
31 Mar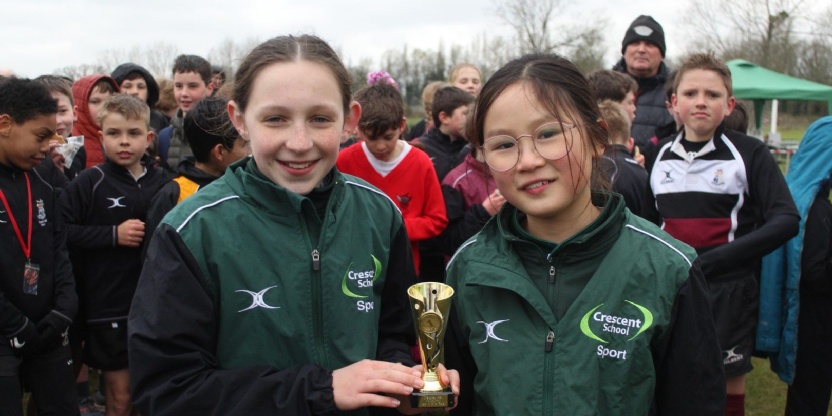 Crescent School's Year 5 and Year 6 pupils took part in a Junior Schools Cross Country Challenge held at Crackley Hall School.
They were joined by pupils from Priors Field Primary School and Balsall Common Primary School.
It was a freezing cold and wet day, and the children were all keen to compete and to get warm running the winding course around the school field. They set off with plenty of energy and enthusiasm and demonstrated great determination and perseverance to complete the race.
The Year 5 girls race was the first to get going and it was a closely matched affair. Grace ran well to finish in 3rd place followed over the line by Ellie in 5th. Lara and Bella both finished in the top 10 with Chloe, Poppy and Annalise all running good races.
The Year 5 boys were next, with pupils giving their all and showing a fabulous work ethic and team spirit. Strong competition from Balsall Common and Priors Field meant that Crescent's first finisher was Sam in 5th place, Charlie and Fin also ran well.
The Year 6 girls showed grit, determination, and maturity. Fantastic running from Evie and Katherine saw them stick with the leaders to come home in 4th and 5th places respectively. Stephanie finished in 10th with Eva 11th and Sophia and Liana following on.
The final race was the Year 6 boys and Crescent's runners faced a strong Crackley team. They set a fast pace but Kai, Caspar, Faris and Aryan stayed strong and all ran solid races.
The individual races were followed by relays, with teams of four competitors running a shorter course. Crescent's Year 6 girls, Harriet, Sophie, Katherine and Evie, ran brilliantly to claim a well-deserved 1st place.
There were fantastic performances by all of Crescent's pupils, of which we are very proud, not only whilst running but also for their support of one another cheering and encouraging all the runners along. Well done to all and we hope you have warmed up now!