Super Summer Concert Showcases Crescent's Musicians
14 Jun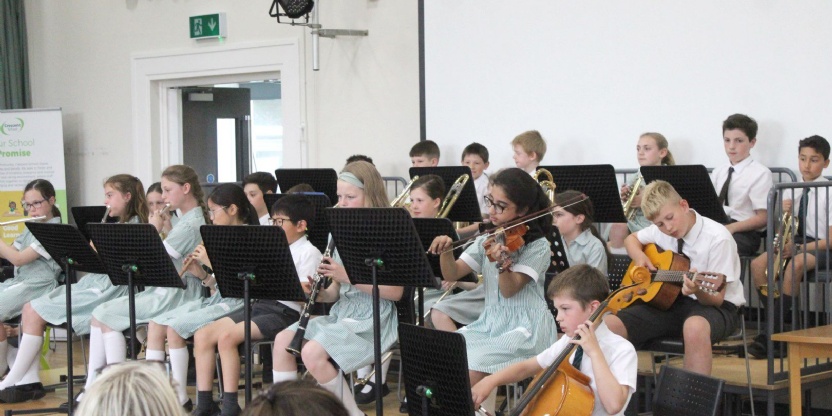 Crescent School's KS2 Summer Concert took place on Monday 13 June. It was well attended with the school hall packed with parents and family members eager to enjoy the end of term celebration of fine music and song.
As always, the school orchestra opened the concert performing the theme from 'Coronation Street' confidently. Then came the first of many solos with Dorrit performing 'Singing in the Rain' beautifully followed by Charlie carefully fingering the traditional 'Sur Le Pont d'Avignon' on his guitar.
Brass Group were next with two lively toe-tapping pieces starting with the theme from 'The Muppets' and then playing 'Oom Pa Pa', the group included many different brass instruments, quite a feat for such a small school. Evie then performed the very fast 'Wonka's Welcome Song' fabulously.
Wacky Music came next with an animated, noisy arrangement of 'Junk Junk' performed on all manner of instruments including a dustbin!
Zahra then skilfully played 'Portsmouth' from her Grade 5 exam on violin. Chloe followed on providing the audience with a moment of quiet reflection with her beautiful song 'Fall, Leaves, Fall'.
Next in the programme was Flute Group with a super performance of 'Bells Across The Meadows' and they were followed by Rohan who played the catchy theme from 'Goldfinger'.
Year 3 Recorders delighted everyone with their finger perfect rendition of 'Smelly Cheese'.
Charlotte then completed the solos playing 'Tenor Trombone Rag'.
The concert concluded with a rousing performance by the Choir. Pupils sang four pieces starting with 'Scenes From A Railway Carriage', then 'We Are The World', followed by 'Viva La Vida' and finishing with the very timely 'Leaver's Song'.
After all the thank yous the children then happily performed one last piece as a finale, 'Our Queen' the Platinum Jubilee song.
All in all it was another outstanding afternoon of music and song. Our thanks and congratulations go to all Crescent School's accomplished performers who took to the stage in front of their proud parents, and of course to all their teachers and Director of Music, Julie Barnes who have helped them achieve so much.