Parents Introduce Pupils To Nigerian Culture
23 Oct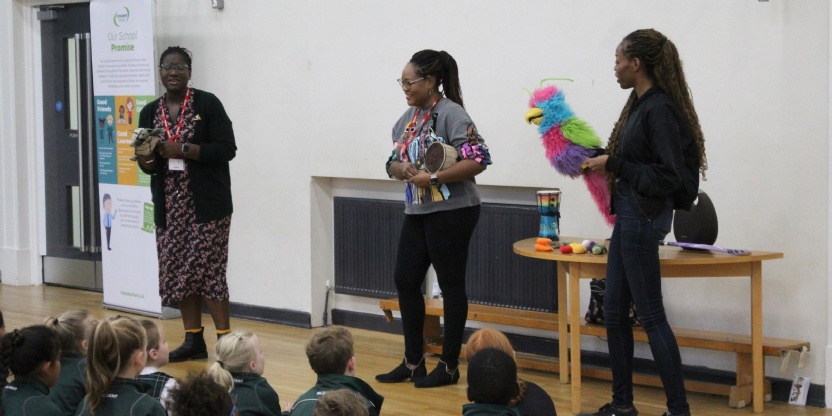 Children across the school participated in class workshops to learn more about Nigerian culture. Led by some of our parents of Nigerian origin, over two days pupils gained a fascinating insight into this giant of Africa.
On Wednesday 18 October, 1Q, 2E and 2W enjoyed a traditional Nigerian story, Queen Moremi Makes A Promise. The story is based on a real-life Yoruba queen, Olori Moremi, who lived over 800 years ago and teaches about the importance of being a good friend, staying resilient and keeping a promise, which sounded an awful lot like some of the key tenets of our own Crescent Promise. Dr Akinremi and Mrs Akinola-Amadi enthusiastically acted out the story bringing the characters vividly to life. The children all really enjoyed the traditional tale.
5F also welcomed visitors, Dr and Dr Oshungbohun, supported by Toni, they told the class about the traditions associated with Yoruba Nigerian weddings; celebrations that always involve lots of people and are colourful, carnival like affairs. 5F got to act out some of the traditions and Ms Forth was mightily impressed with the respectful bows (they could become a requirement for all her classes!)
Then on Thursday 19 October, 6W, 4C, 3SS, 3LS and the Reception class took part in their workshops. Dr Ladele gave an engaging talk on Nigerian sports heroes and was impressed with how many of the heroes and sports that pupils could name. He also taught Year 6 a tribal war chant and had them all up dancing and singing the uplifting and encouraging Buga.
Dr Chime, Mrs Remi-Omosowon and Mrs Adegite shared the traditional Nigerian folktale How The Tortoise Got His Cracked Shell bringing the story to life using puppets and music. It was a fabulous colourful tale reminding us all that pride comes before a fall and the children were mesmerised, listening intently and really enjoyed the story.
It has been fantastic for the children here at Crescent School to learn more about the culture of their classmates through the assembly earlier this month and this week's workshops. We very much appreciate our Nigerian families helping us to have a better understanding of what it means to be from Nigeria.